Career Portfolio - Creative Portfolio Theme for Professionals
Downloads :

36805+
Active Installs :

500+
Current Version:

1.0.9

Licence:

GPL

Created Date:

7 December, 2019

Last Updated:

28 May, 2020
Details
Career Portfolio is a magnificent WordPress Theme which is one of our most creative Portfolio Free Theme. It is the best portfolio theme with responsive and premium quality best for designers, photographers, artists, creative professionals, agencies, creative business owners, and anyone else looking to showcase their work in high quality.
This is a simple, reliable and awesome theme with a versatility that narrows your search down to one single choice. The theme is very much flexible and comprises options that make website development an easy task. It has a modern multipurpose design, built on a one-page layout.
Not only it comes packed with alluring layouts that can be quickly switched, but it also provides lots of customization options so you can turn it into a solution that's even close to your needs. Everybody loves free stuff. Won't you choose the beautiful theme with bundles of properties if it is available for free? No matter if you are late joining WordPress, it will make you feel like magic with its single-click customization.
Fully Customizer Based
One Page Layout
SEO Optimized
Custom Widget
Responsive Design
Carousel Slider Options
Sidebar Layout Option
multiple Homepage layout options
Elementor based
Multiple Demo available
Many More…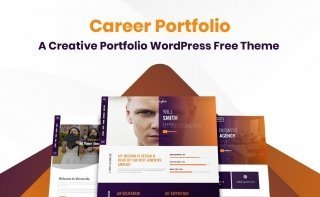 Main Features
Pro
Unlimited Color Scheme
Pro
Disable Powered By Text
Font Family Options
One Click Demo Import
Responsive Design
Cross Browser Compatible
Pro
Woo commerce Compatible
Advanced Search
Team Section
Gallery PopUp
Font Options
Categories Page Layouts
Custom Widget (Limited)
Compare Table
| Features | Free Version | Pro Version |
| --- | --- | --- |
| Price | Free | $59.99 |
| Fully Customizer Based |   |   |
| Carousel Slider Options |   |   |
| Preloader Options |   |   |
| WooCommerce Compatible |   |   |
| Header Hidden Sidebar |   |   |
| One Click Demo Import |   |   |
| Read More Text Options |   |   |
| Responsive Design |   |   |
| Social Icons |   |   |
| Custom Logo |   |   |
| Cross Browser Compatible |   |   |
| Background color/Image |   |   |
| Siderbar Layout Options |   |   |
| Font Option |   | 100+ |
| Advanced Color Option |   |   |
| Multiple Templates |   |   |
| Available Banner (ie.Page Banner and Slider Category Banner) |   |   |
| Client Section Layout(ie. Layout One And Layout Two) |   |   |
| Slider Layout (ie. Layout 1 And Layout 2) |   |   |
| Disable Powered By Text |   |   |
| Feature Section |   |   |
| Section Re-Order |   |   |
| Excerpt Length |   |   |
| Enable/Disable Option for Date |   |   |
| Home Page Section | 5 | 6 |
| Dynamic Sidebars Option (Archive) |   |   |
| Advanced Typography Options |   |   |
| Web Layout |   |   |
Change Log
== Changelog ==

= 1.0.9 - May 28 2020 =
* Added Blog Title Options
* Added Blog Button Text options

= 1.0.8 - May 12 2020 =
* Added Header Layout Options( Vertical Menu and Normal Menu )
* Added Content Length options in About Section of Home Page.
* Fixed Responsive issue.
* Added pot file for the latest version of Career Portfolio

= 1.0.7 - March 31 2020 =
* Fixed the escaping issue in the meta box.
* Added proper prefix for meta key.
* Add Backward compatibility for wp_body_open().

= 1.0.6 - March 27 2020 =
* Fixed keyboard navigation issue.
* Remove unused function.
* Update pot file.

= 1.0.5 - March 25 2020 =
* Fixed title issue.
* Remove unwanted file and folder.
* Remove repeater field and option through the post.

= 1.0.4 - March 25 2020 =
* Adde Keyboard Navigation
* Fixed Keyboard Navigation

= 1.0.3 - March 24 2020 =
* Added Proper License Format.
* Added proper type format for URL.
* Minor issued fixed in 404 pages.
* Adde Keyboard Navigation

= 1.0.2 - March 23 2020 =
* Remove unwanted space and commented code.
* Fixed escaping and prefix issue.
* Add missing license.

= 1.0.1 - Feb 18 2020 =
* Added Elementor compatible.

= 1.0.0 - Jan 06 2019 =
* Initial release

== Credits ==