An Exceptional WordPress Blog Theme: Blog Personal Pro
An Exceptional WordPress Blog Theme: Blog Personal Pro
Are you tired of the similar looking websites that follow the same pattern and same designs? Sick of going through thousands of WordPress themes to find the perfect one but to no avail? While the standards and expectations are seemingly increasing with all the latest advancements, finding the right WordPress theme to get started is always a hefty task. Not to mention the online environment with cutthroat competition. Sounds like a lot doesn't it? But what if we say there is an easy way out?
Introducing Blog Personal Pro: An incredible addition to the WordPress Blog Theme collection! Taking care of all of your needs and requirements to create a stunning WordPress blog site; Blog Personal Pro is the answer to all your problems! That's right, this theme is crafted and designed in a way that will leave all of your users stunned. Not only is this visually amazing to look at, but this template is rich with tons of amazing features. This one-of-a-kind WordPress theme makes the process of creating the perfect platform a breeze. Don't believe us? Check out the awesome list of features down below and you will realize how amazing it really is!
Key Features of the Blog Personal Pro Theme:
Unlimited Color Schemes
To create a state-of-the-art website, the visuals are an important aspect. And with Blog Personal Pro, you have it all! Get unlimited color palette to choose the ideal color scheme. Match the colors of each and every element to go with your company logo, or your preference with ease.
One Click Demo Import
Why spend an endless amount of time to create the perfect website when everything is already at your disposal? That's right, with Blog Personal Pro there is absolutely no hassle to get things done as it comes with tons of demo variations to choose from. And the best part is, it can be installed within a matter of seconds. Simply pick out the one you like and get creating. End up with the perfect blog site only with Blog Personal Pro!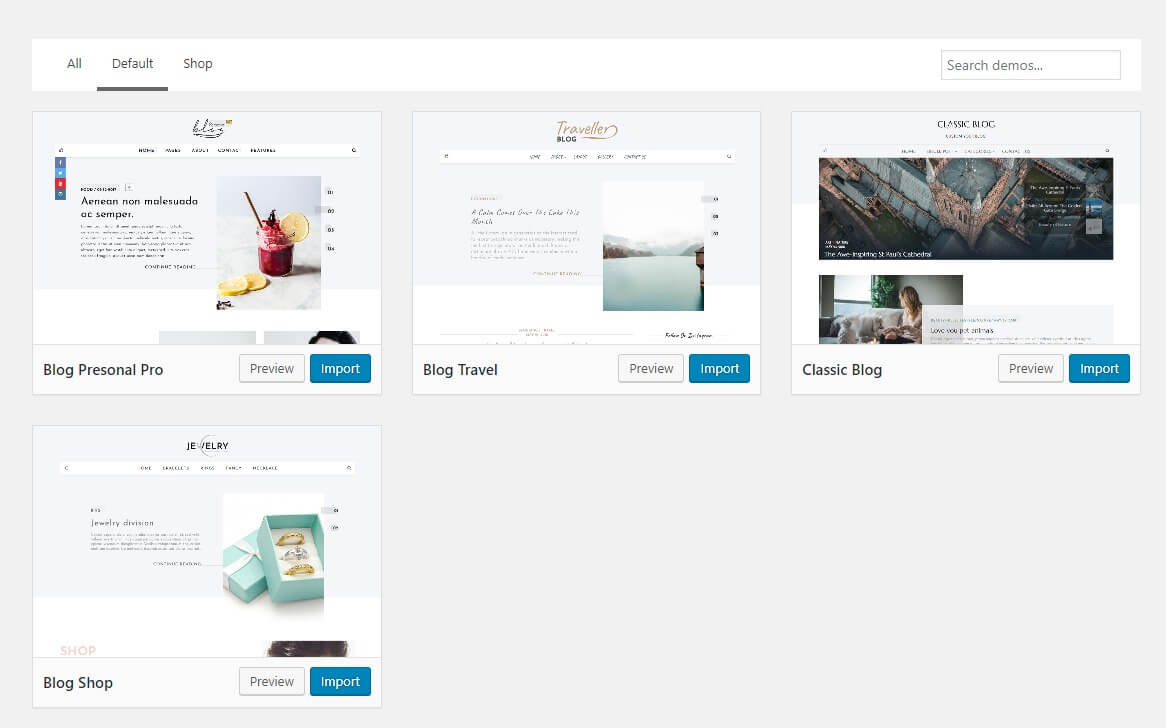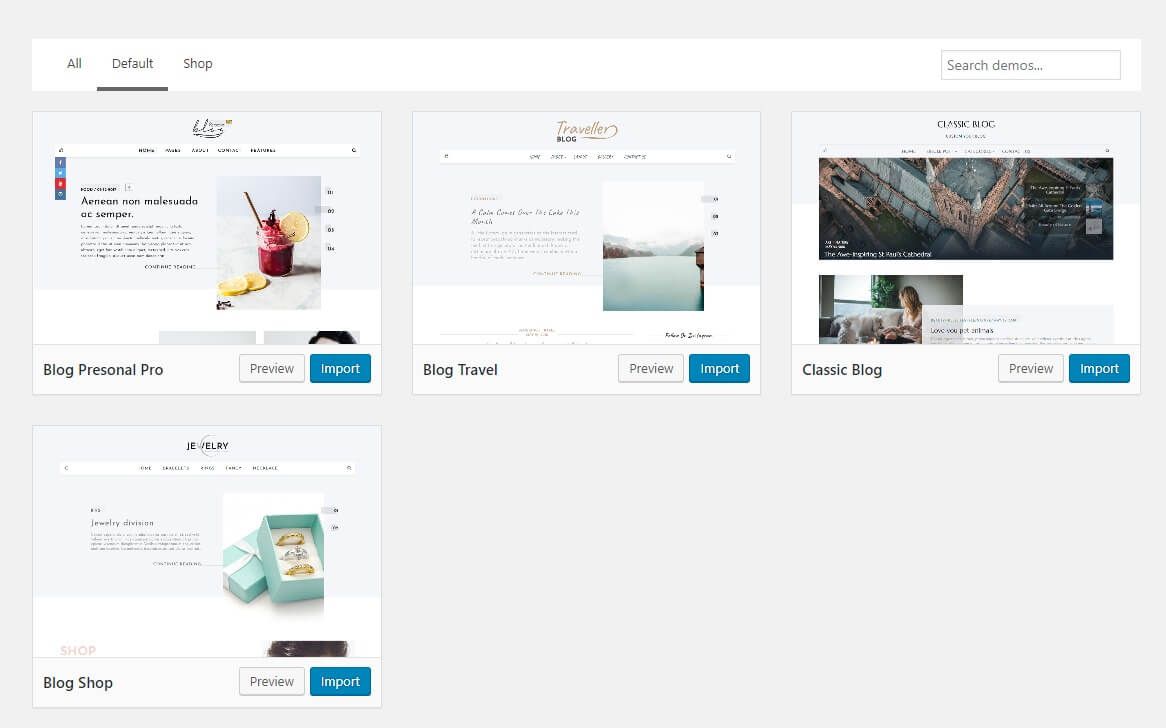 Header Layouts
One of the major aspects to an easier navigation and attractiveness of the website, an effective Header is also the key. With Blog, Personal Prothe users get tons of customization options which also includes Header layout variations to choose from. Get 4 unique and beautiful Header designs each dealing with a useful aspect to it. Choose the one that is likely to meet your requirements the best and customize it with ease!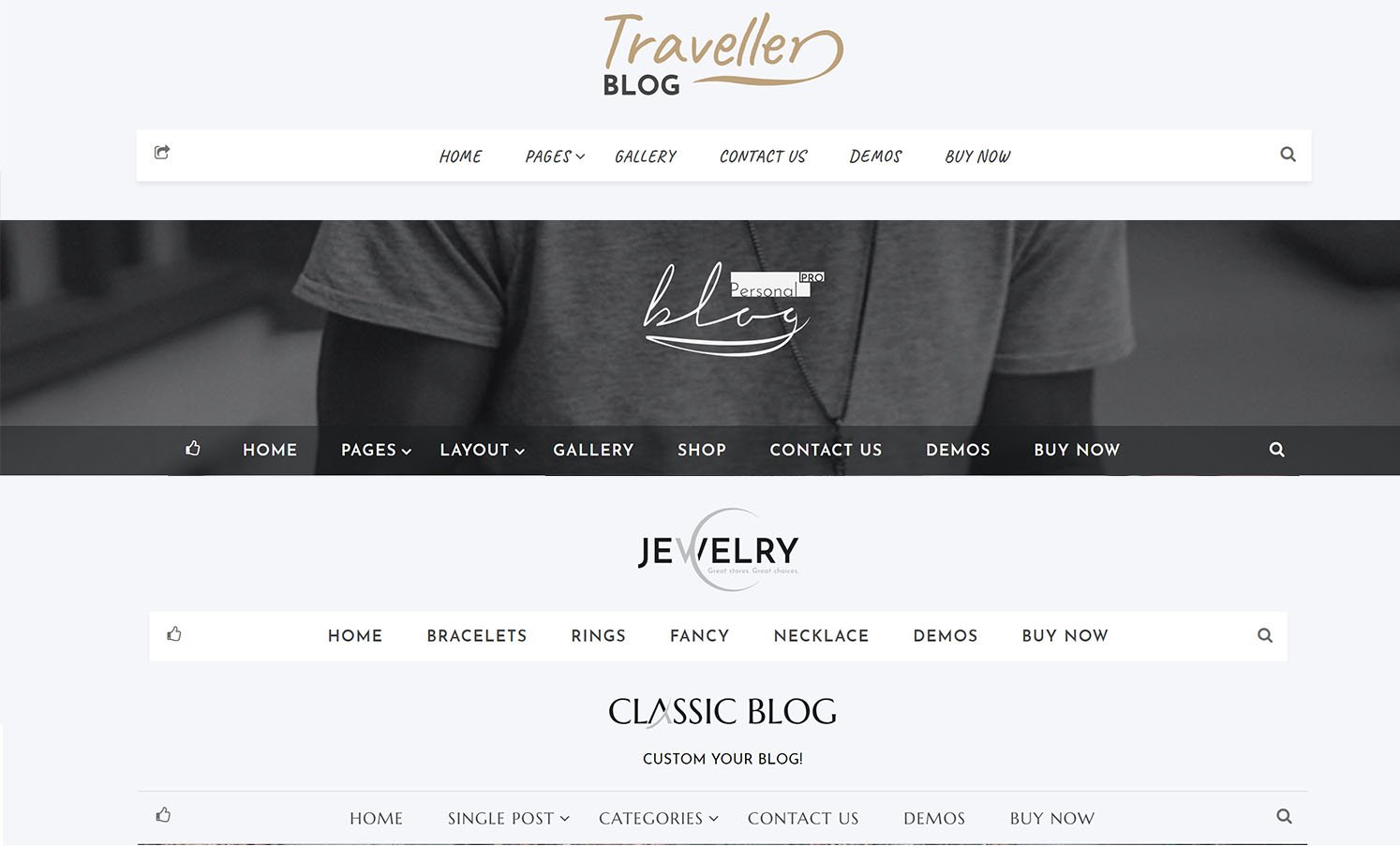 Categories Page Layouts
Another amazing feature of this WordPress blog theme is that it also offers options for various Categories Page layouts. This ensures that no matter how many categories you wish to represent or display, you have the choice to do so. Be as creative as you wish and ensure that your website looks stunning with these Pages that you can include.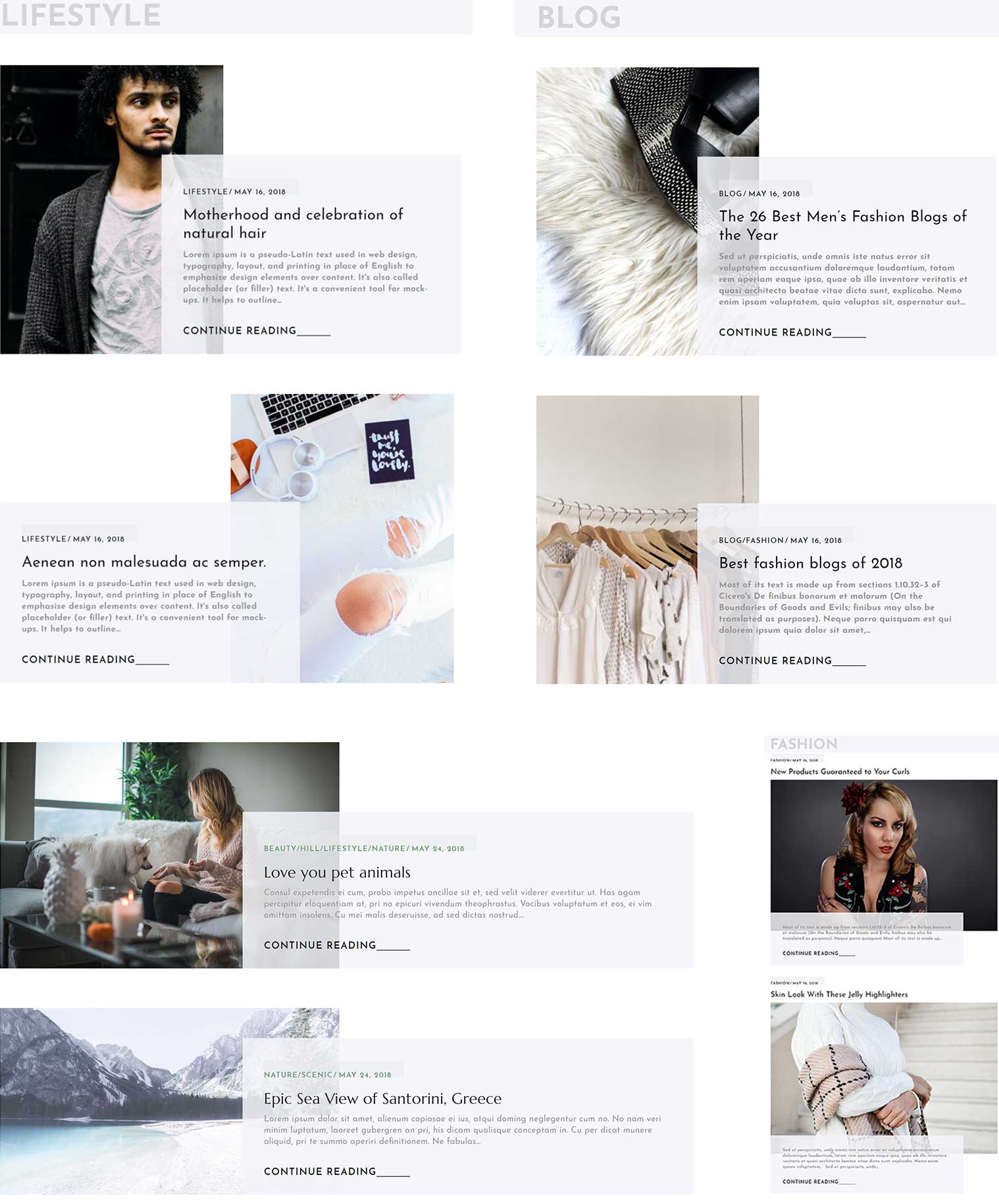 Archive Page Layout
Adding to the usefulness of this stunning WordPress blog theme, you also get amazing Archive Page layouts. This lets the users to easily create libraries to store important information for your users to see. Build the perfect website to represent everything that you aim for only with Blog Personal Pro: an impressive WordPress blog theme.
Related Posts
Yet another useful features it represents is the option to display the related posts for your users to easily navigate. Keep your users engaged on your website for a longer period of time displaying similar or interesting posts on your website. This ensures that your viewers are hooked onto your site and even increase your conversion rates!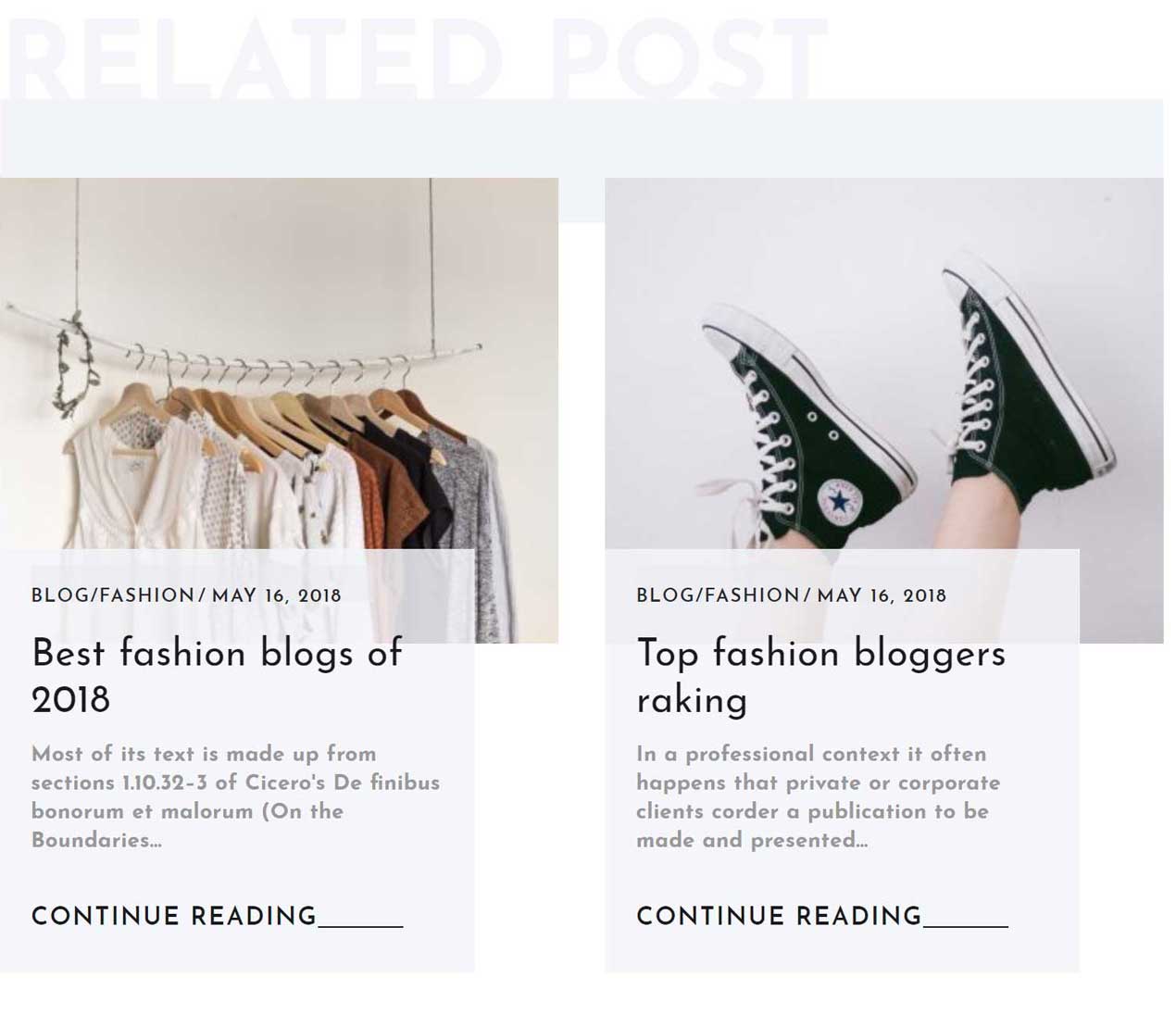 Instagram Feed
Social networking sites are one of the major aspects when establishing any business or website. This is why, Blog Personal Pro has introduced Instagram, one of the popular networking sites to the theme. It allows the users to easily integrate and connect with their users. Share your contents to a larger audience, share Instagram feeds, interact with your users, everything is now easier!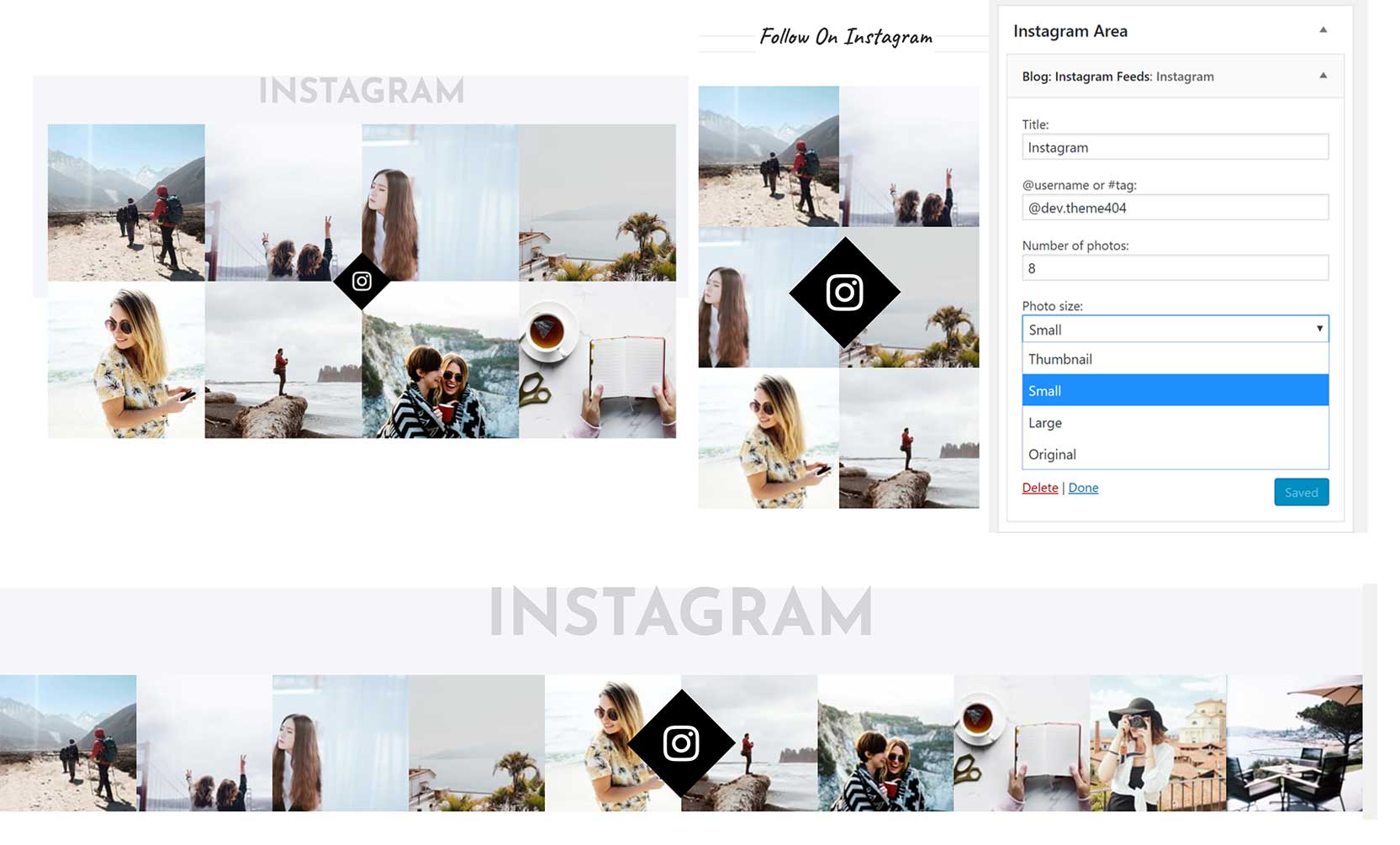 Custom Widgets
With a more effective interface with almost everything you need at your disposal, Blog Personal Pro also features a list of widgets to make the user experience even better! What's more is that alongside the default widgets you get, this theme also includes 11 custom widgets! To get you a better insight into how each of the widgets work, here are a simple explanation!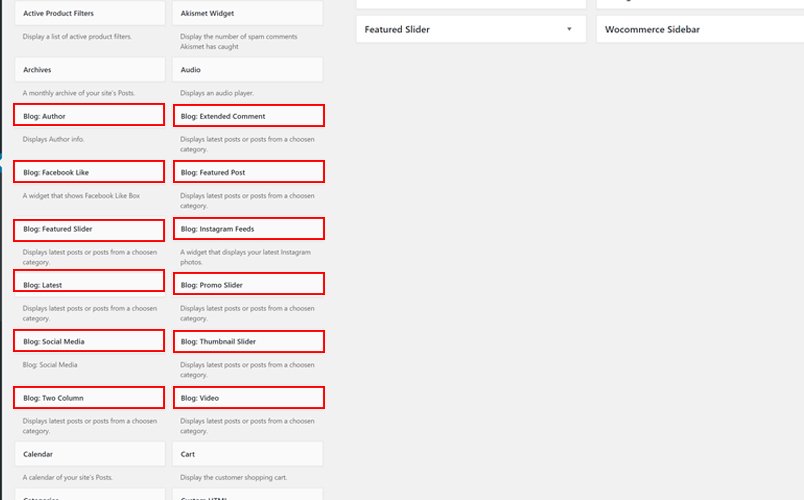 Author Information
Any amazing Blog requires an author to credit for! That is exactly why Blog Personal Pro comes with the option to share author information. Not only will this enable you to make an impact, you also establish yourself with the users.
Contact Page Template
Just like any other websites that is trying to establish themselves, a Contact Page to connect you with the users is important. Whether you are trying to promote your business, sell your products, get people known about you, having a Contact Page on your website is a must. Thus, with Blog Personal Pro you get an elegant and professional looking Contact Page! Add your details, locations and a way for your users to stay connected!
Video Section
To make your website more interesting and appealing for your users, Blog Personal Pro also has stunning Video sections. This allows the users to easily add amazing media files for your users to enjoy. Keep them engaged for hours on end and make sure to leave a lasting impression!
WooCommerce Compatible
With the cut-throat competition with keeping up a successful business, Blog Personal Pro also allows the users to easily create an online shop. Providing an easy payment method, this theme is completely compatible with WooCommerce. Create a fully functional online shopping platform where you can sell-off your products with ease only with Blog Personal Pro!
Font Options
When it comes to an awesome and appealing website, the overall look and feel is also determined with the typography it displays. And with Blog Personal Pro you get it all! Get access to elegant and professional fonts that adds the extra touch of creativeness. What's more is that there are tons of options thanks to the integration with Google Fonts! So choose the one that will add to the essence of your website with ease!
Other Options:
While we have highlighted the major advantages of installing and activating this amazing WordPress Blog theme: Blog Personal Pro, there are plenty of other options as well. That's right. Here is a sneak peak into what more you are offered!
Theme Option Available.
Fully responsive design.
Custom background color or Image.
Sidebar Layout Options.
Social Icons included.
Excerpt Length
Option To choose Content or Excerpt Length
Option to disable Powered by Text.
Want to know more about this stunning theme? Click here!
Final Thoughts!
While there are more than enough options to choose from as an ideal WordPress blog theme for your website, Blog Personal Pro is one that surely stands out! It is impressive with a lot of attention to details to layout and structure. Not only this but the functionality covers everything that you possibly might require! With the cut-throat competition of the online publishing industry, this amazing template will make your site effective and successful! Get an amazing Blog site with stunning Pages to represent your contents only with Blog Personal Pro! Try it for yourself and we are sure you will never want to go back!