Power Magazine – A Multi-Purpose Magazine WordPress Free Theme
We are really excited to introduce Power Magazine Free Theme which is solely customized to boost your online Magazine and blogs. Even it is called a Magazine theme, the aim of launching this theme is for multi-purpose. Currently, it has included two different templates for magazine/Blog and Travel.
You can check demos here.
Power Magazine is a well-managed free theme that includes systematic structure and flexibility setting too. If you are planning to run an online magazine then you can try this theme with high recommendation where you can find a flexible, dynamic and attractive layout with a glittering touch and user-friendly territory as well that is absolutely perfect for editorial websites and online magazines. It includes a highly adjustable theme customizer which is appropriate to change the layout, colors, and fonts of your website and it definitely helps to build the latest design trends.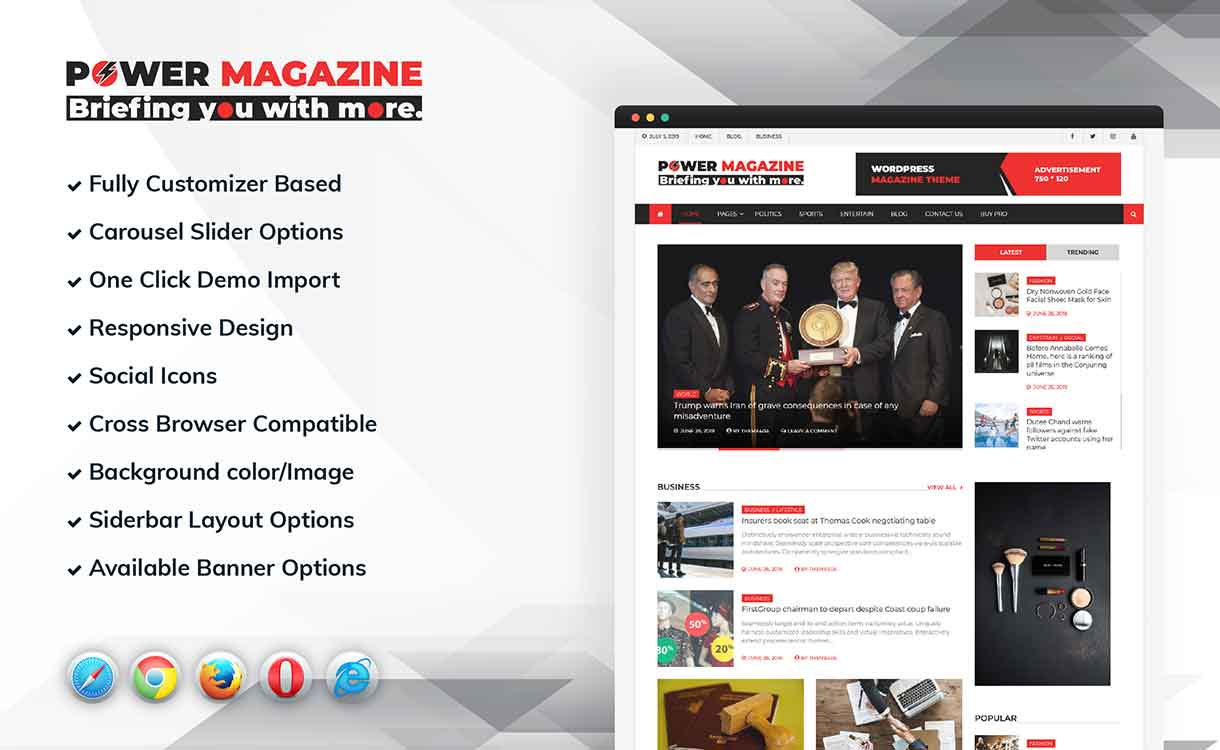 Moreover, the theme is a bundle of various attractive features and widgets that are really coherent and best for your projects in order to enhance the quality of your magazine. Power Magazine is fully responsive and seems virtuous in all devices either mobile or tablet or desktop.  Endless amounts of custom sliders, as well as carousels, can easily be deployed in an instant, showcasing your featured reviews or articles or keeping your pages dynamic with attractive image galleries. Whereas you can find several layout options for the news section. It includes most of the social media icons such as Twitter, Facebook, Google+, Instagram, Linkedin and more which help you to keep in touch with potential customers or clients.
If you have own magazine, why don't you start up your business website today?
This theme presents itself beautifully in both pro and free versions. Power Magazine Free Version is one of those web themes which looks equally elegant and attractive in both the versions.  A versatile, flexible and multi-purpose theme designed just to make things easier for your online magazine with an amazing section to add your news and more. Thus, grab the opportunity by using this theme which is definitely a perfect solution for your business. Needless to say, there are many, but let's focus on the primary features:
Primary Features:
Fully Customizer Based
Carousel Slider Option
One-Click Demo Import
Responsive Design
Cross-Browser Compatible
Available Banner Options
Sidebar Layout Options
Background Color/Image Options
SEO Optimized
varieties of Page Templates
Flexible Header
Block Editor Styles
Carousel Slider Option
Most of the websites use the slider (carousel) to feature important contents. The slider provides information display in a visually appealing manner. Some sliders also come with breathtaking animations and transitions. Power Magazine allows you to modify your slider as per your business needs and is sure to get your customers hooked, may it be for a few seconds. It's properties like these that make up a good website and we're not kidding when we say Power Magazine is one of the best!
Fully Customizer Based
When any theme claims to be fully customizer based, it means any part of the website can be modified, deleted and added as needed. The power Magazine offers fully customizer based website. Hence you can add and remove anything you want. It is like making up your own site without having to do anything more than a couple of clicks. Do what you need to beautify your site, Power Magazine got your back.
One-Click Demo Import
Let's imagine you see a very alluring theme and want to try it out on your website. But you can't do it without a technical mind. This could be infuriating at times. But worry no more. Power Magazine has a 'One Click Demo Import' functionality which means you can import everything in a theme to your site giving a display of your website in theme of your choice. Use it or not, but you can view a demo of your site in the chosen theme. Either way, the surplus remains on your side.
Responsive Design
Prior to moving on, take a moment to analyze where you spend most of your screen time. Most people never even touch the big screens like laptops and desktops as most of the surfing is done through phones and tablets. Complementing them are the big screen viewers like smart TV and other high-end devices. A good website responds well to all devices irrespective of screen size. Power Magazine looks awesome everywhere from mobile phones to a smart TV. You don't have to take our word for it, check it for yourself.
Cross-Browser Compatible
As much as responsive designs are necessary, equally important is Cross Browser compatibility. It means a website should look the same in all the browser irrespective of the operating system, software versions or devices. Power Magazine is cross-browser compatible so you don't have to worry about anyone not being able to view your website because of incompatible devices. With Power magazine, there are no incompatible devices.
Page Templates
Power Magazine is not just the homepage that you see. It is a full package of all the pages you will need. There are no page restrictions giving you one less problem to worry about on the sub-pages.
SEO Optimized
Search Engine Optimization (SEO) of your website determines how your website will be ranked by search engines like Google and Bing (DuckDuckGo too, if you prefer private browsing). Search Engines are one of the major entry gates for people to visit your website hence keeping your SEO is the best way to attract more viewers. Power Magazine dynamically updates your SEO helping you improve your SEO ranking with every post you make. Again, one less problem to worry about!
We've just highlighted some key features which are available at the free version. But there are more options for you to use it:
Translation Ready
Available Banner Options
Home Page Section
Web Layout
Sidebar Layout option
Read More test options
Many More….
Everything you'd need in a website, Power Magazine has got you covered. And it's free! Your day couldn't get any better. Try Power Magazine theme on your website Now! For similar WordPress themes, do visit our store. We have more exciting and free themes waiting to serve you.
We've launched Power magazine Premium version with highly customizable features. If you want to purchase the Pro version, don't get late.