A Stunning Free WordPress Blog Theme: Blog Personal!
Are you looking for something professional, that delivers top-notch performance yet free? Are you sick of looking through all the lists of themes only to find that they don't work like you expect them to? Don't worry, here at Themes 404 we have it all in line for you. Whether you are looking for Free or Premium WordPress themes, we provide a range of option just for you to choose from. For every niche and every category, feel free to join us and our collection of exclusive themes right here!
Talking about exclusive and mind-blowing themes, today we introduce our users to Blog Personal: A Free WordPress blog theme that is worth a try! That's right! Among thousands of other options you might have chosen, this theme is one that will definitely stand out from the crowd. Wowing your crowd and leaving a lasting impression, we guarantee you that we deliver what you expect! With stunning visuals and effective and useful functions, this amazing WordPress blog theme suits any blog niche no matter which it is. Although the premium version: Blog Pro is definitely more feature rich, the free version is certainly not far behind. But why do we praise this theme so much? Take a look at the feature yourself and we are sure you will have the same impression by the end of it!
Key Features:
Stunning Interface and Responsive Design
Just talking about the design itself, it is simply stunning. It is modern, unique, professional-looking and extremely well-organized. Another major point about this amazing WordPress Blog theme is that it is fully responsive. This makes sure that no matter which device, laptop, or mobile your users are on, your website functions smoothly. It automatically adjusts and fits any device screen size with ease. You even get a mobile-friendly menu that goes along with the template.
One Click Demo Import
Why spend an endless amount of time to create the perfect website when everything is already at your disposal? That's right, with Blog Personal Pro there is absolutely no hassle to get things done as it comes with tons of demo variations to choose from. And the best part is, it can be installed within a matter of seconds. Simply pick out the one you like and get creating. End up with the perfect blog site only with Blog Personal
Header Variations
Alongside other amazing customizing feature, Blog Personal also offers 2 different Header variations. Choose the one that best suits your requirement and customize it to match your blog. Make navigating and scrolling through your blog so much easier, only with Blog Personal
Related Posts
Yet another useful feature it represents is the option to display the related posts for your users to easily navigate. Keep your users engaged on your website for a longer period of time displaying similar or interesting posts on your website. This ensures that your viewers are hooked onto your site and even increase your conversion rates!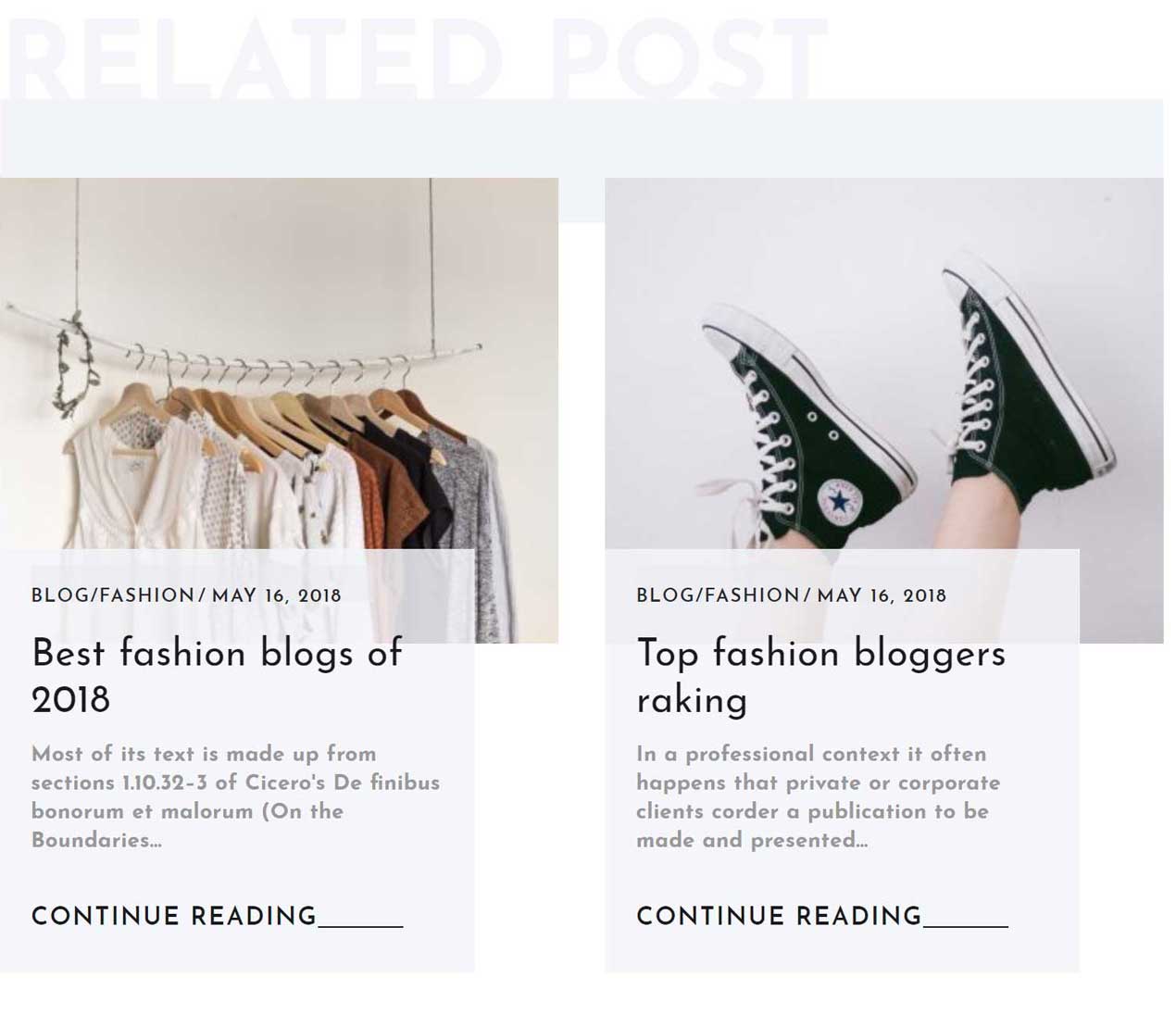 Social Links
With blogging, another major factor is obviously the social platform and social sharing. Stay connected to all your loyal users with Blog Personal. It offers an option for social links to easily share the contents of your site. Reach out to a larger audience, promote your contents and your site!
Amazing Theme Support
When in doubt, we are always there to help! Reach out to us and we offer theme support easy and fast. Fully reliable, we vouch for our amazing support always!
Other Options:
While we have highlighted the major advantages of installing and activating this amazing WordPress Blog theme: Blog Personal there are plenty of other options as well. That's right. Here is a sneak peak into what more you are offered!
Theme Option Available.
Fully responsive design.
Custom Widget (Limited)
Custom background color or Image.
Sidebar Layout Options.
Social Icons included.
Read More Text Options
Final Thoughts!
While the above-mentioned features are plenty to get users start their journey with Blog Personal today, that is not all! Get to know more about it right here!
With Blog Personal, there is definitely no looking back. Get amazing results with a stunning retina-ready and responsive design. Unlike most free WordPress blog themes, it is feature-rich and comes with plenty of customizing option. And while we vouch for an amazing user-experience, this template is definitely worth a try! So why wait? Try it out for absolutely no cost today!