It is a large family of viruses (COVID-19) that can cause respiratory, enteric, hepatic, and neurological diseases and cause mysterious illnesses ranging from the common cold to more severe diseases such as MERS-CoV and SARS-CoV.  It is a new strain that emerged in December 2019, reported in Wuhan, China and now spread to a number of countries around the world. According to WHO, Coronaviruses are zoonotic and are transmitted between animals and people. 
Infected people will experience mild to moderate respiratory illness and can recover without requiring special treatment. People with high immunity power have less possibility of being infected. Even if they are contaminated, with some safety measures they can be recovered. Mainly the people of older age, children, and those with underlying medical problems like cardiovascular disease, diabetes, chronic respiratory disease, and cancer are more likely to get affected by this disease. 
How it's Transfer?
According to the exploration of WHO, it is found that SARS-CoV was transmitted from civet cats to humans and MERS-CoV from dromedary camels to humans. This disease is mainly transferred from person-to-person. It seems to be spreading easily and sustainably in the community in some affected areas.
This virus can transfer from one infected person to a healthy person by physical contact. It can also spread by touching on a surface or object that has the virus and later touches on their nose, mouth or eyes.
Preventive Measures
There are no specific vaccines or treatments discovered to date for COVID-19. So, the best way to prevent it is, slow down its transmission by spreading the knowledge about the disease it causes and how it spreads. If every single person takes small steps of washing hands or using an alcohol-based rub frequently and not touching the face can protect themselves and others from infection.
Wear Masks
If you are suffering from sneezing and cough or have to go in mass, cover your nose and mouth with a disposable tissue or flexed elbow.
Wash your hands
To prevent yourself from viruses wash your hands regularly for 20 seconds with soap and water or alcohol-based hand rub.
Avoid contact with animals
It is better to avoid contact with animals possibly living in the market (e.g. stray cats and dogs, rodents, birds, bats). As WHO says, not to contaminate the disease, don't contact with potentially contaminated animal waste or fluids on the soil or structures of shops and market facilities should be strictly avoided. 
Avoid close contact
If you feel unwell stay home and self-isolate. Keep a distance of 1 meter or 3 feet with the people who are ailing.
Use NOSE-RAG
Mainly Respiratory viruses like COVID-19 spread when mucus or droplets containing the virus get into your body. Most often, this happens through your hands. One of the cheapest, easiest, and most important ways to prevent the spread of a virus is using a Hand-Rag.
Symptoms
Before developing symptoms of Corona, people may be ill because of a virus for 1 to 14 days. The virus can influence different people in different ways. People can have mild to moderate symptoms. 
 The main symptoms of COVID-19 are:
High Fever

Dry Cough

Shortness of Breath

 Tiredness
Other Symptoms include:
Sore Throat

Runny Nose

Cough

Aches and pains

very few people will report diarrhea, nausea or a runny nose
People with not severe symptoms should self-isolate and can consult with their medical provider. But people with High Fever, Dry Cough, Difficulties on breath should seek for medical attention.
We have developed Premium Theme "Career Portfolio Pro" where we have created a demo called "COVID19" This is basically a landing page, we tried to explain about COVID-19 and its symptoms, how to take care and stay safe.
There are 8+ demos available in this theme which are specified as Career Portfolio, Education, Business Agency, Career Portfolio Pro, Construction, Cafe, Health & Fitness and, COVID19.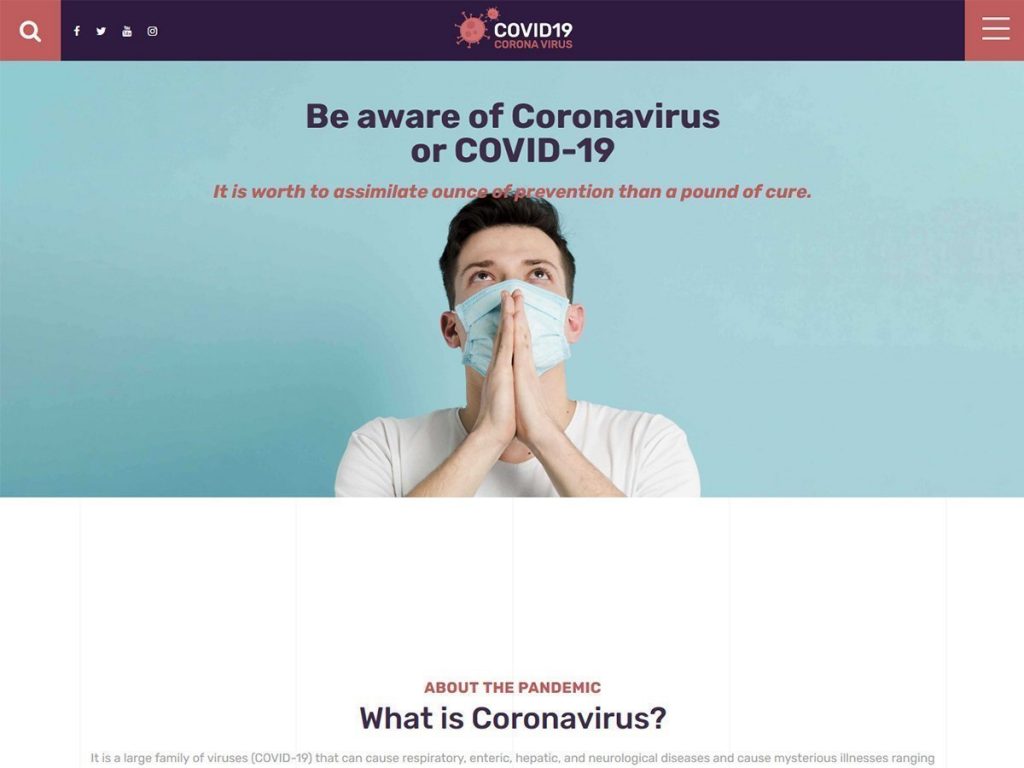 Though It is a commercial theme. Myriad Features and viability make it worth to pay. 
Single Site – $59.99

 2- 5 Sites – $99.99

 Unlimited Sites – $199.99
For more details about this theme, Please visit the link below: