If you're in the process of launching a print on demand business and pondering over Printful or Redbubble, this blog post intends to provide an adequate comparison between these two platforms – examining their features, advantages and potential flaws.
In other words, exploring the 'printful vs redbubble' dilemma for all entrepreneurs looking into kick-starting a profitable on demand enterprise.
Short Summary
Comparing Printful and Redbubble in 2023 – evaluate features, benefits & drawbacks to determine which best suits your business needs.

Printful offers design creation, mockup generation, white-label branding & integration options with popular eCommerce platforms. Redbubble provides a marketplace for artists/designers to upload designs & sell directly.

Printful has larger product selection sourced from top tier brands for better quality/cost effectiveness than Redbubble's unique items like stickers and phone cases. Faster fulfillment times and more transparent shipping costs compared to Redbubble.
Related: Is Printful Or Printify Worth It For Stickers?
Understanding Printful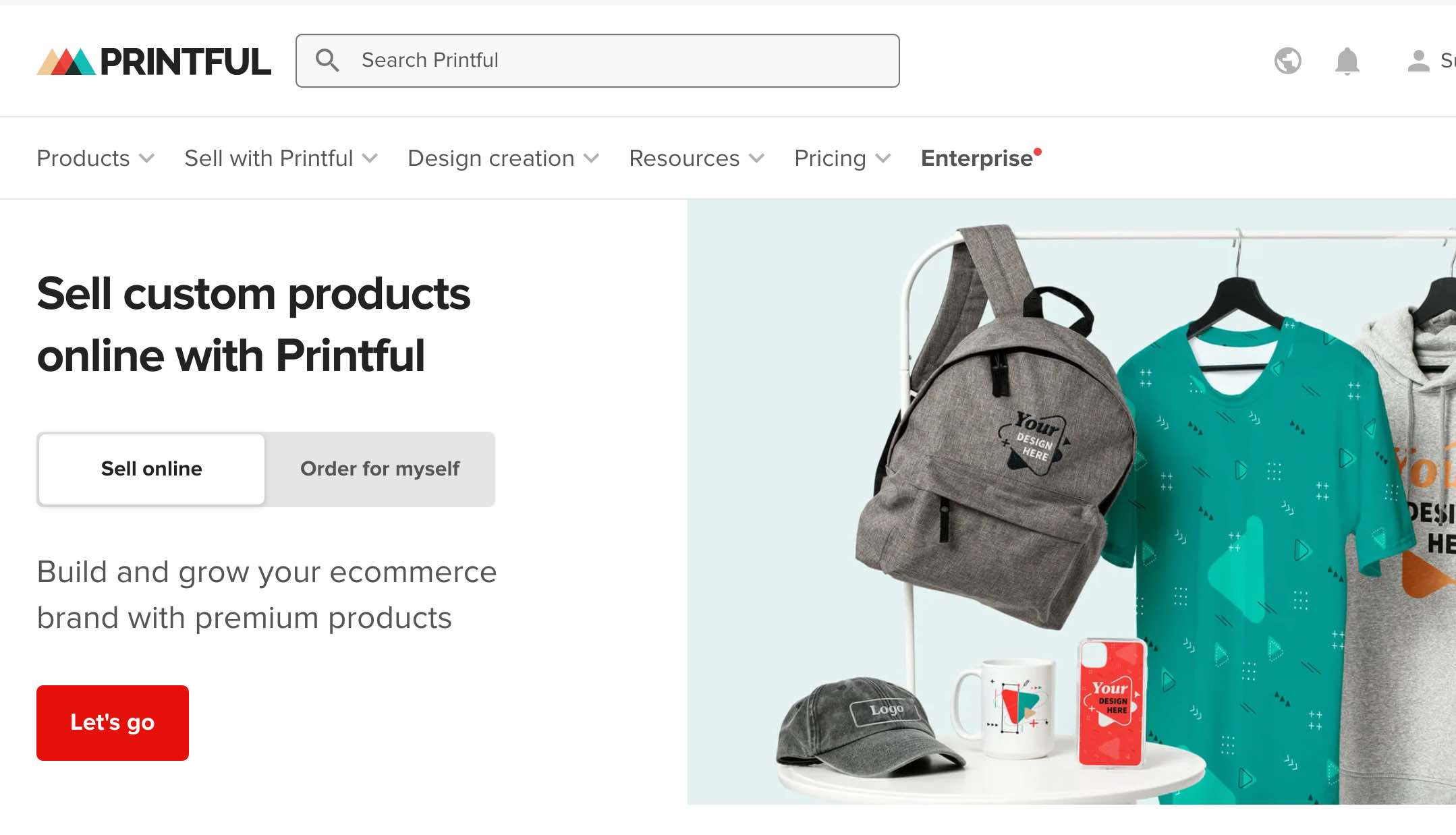 Printful provides an optimal service for those wanting to start their own print on demand business. It offers product customization, order fulfillment and warehousing options that make it ideal for businesses looking to have complete control over their own online store while using the reliable printing services of Printful.
By signing up with a Printful account, managing one's store as well as orders will become easier than ever before.
This platform integrates easily into various ecommerce platforms or marketplaces.
Allowing users more flexibility when deciding which channel they want to sell products from under its brand identity. This also helps make transactions smoother by giving them access to multiple ecommerce systems all at once!
Services Offered
Printful makes it easy to begin selling online with a distinct branding.
They provide custom design services, mockup generator tools and white label logos for personalizing the products you want to offer on your Etsy shop or other ecommerce platforms.
Printful offers various printed items like shirts, hoodies, hats and blankets that are ideal for creating art prints that are perfect for sale too!
Through their platform one can preview designs before listing them up enabling an easy start when selling these types of merchandise online.
Integration Options
Printful stands out from its competitors due to the fact that it provides integrations with different eCommerce websites and custom applications using an API.
This integration allows customers to link their online stores seamlessly, expanding sales potential on platforms such as Shopify, WooCommerce, Amazon, eBay or Etsy.
Redbubble does not provide this same ease of access for merchants wanting to sell across a variety of sites, instead limiting them exclusively selling designs through the platform itself, which inhibits growth opportunities.
Understanding Redbubble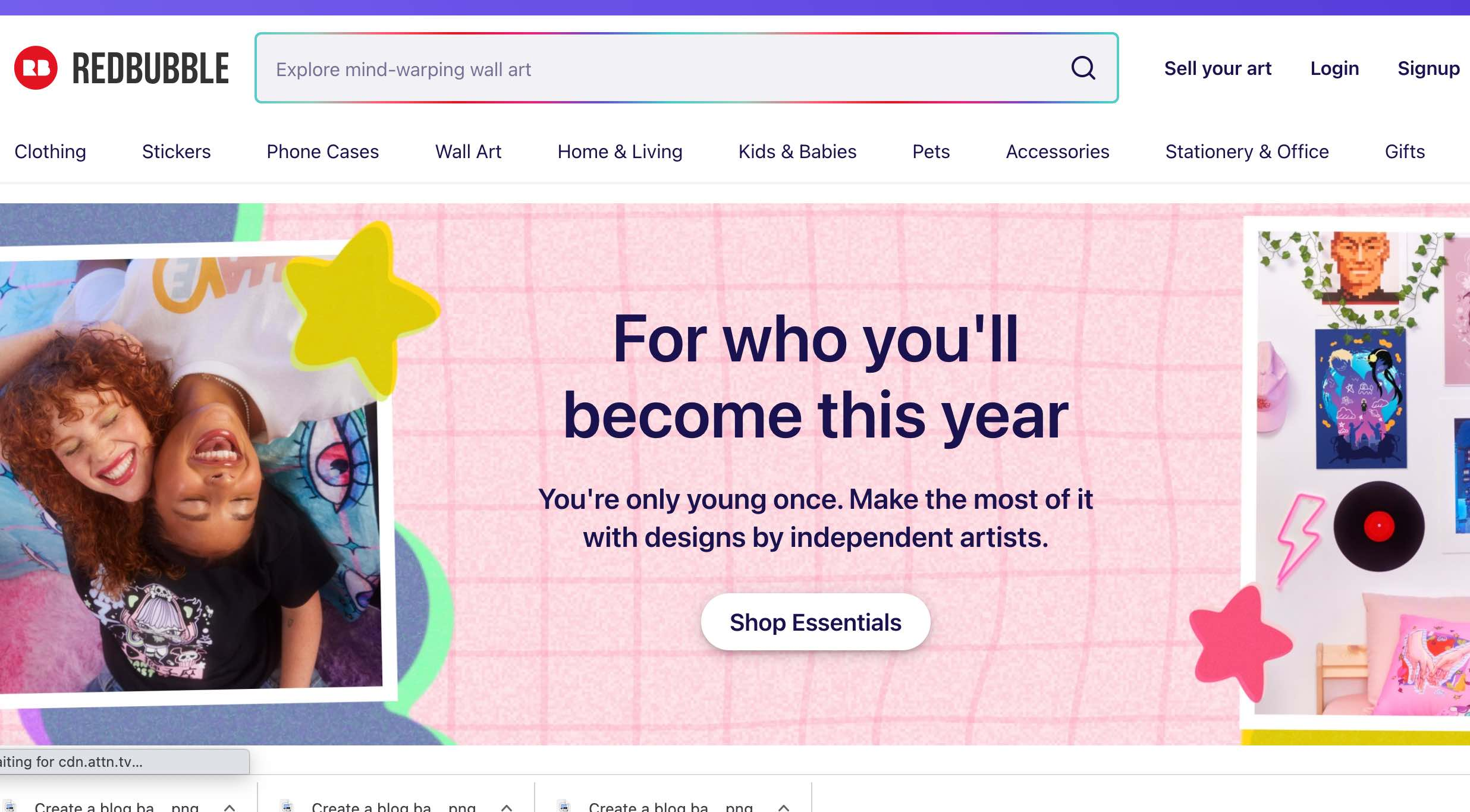 To Printful, Redbubble is an online destination that allows artists and designers to craft custom-made goods which can be sold.
Its primary objective being a marketplace as well as having a wide community presence, the site provides various personalized items along with international delivery.
Unlike its rival service provider, who permits integration of other ecommerce platforms or marketplaces for expanded reach when it comes to selling products.
This feature lacks in Redbubble where users have only direct platform options if they desire to put their wares up for sale thereby cutting down on flexibility.
Marketplace and Community
Artists have access to Redbubble's platform that offers the opportunity for them to establish their own store, upload artworks and offer items directly to customers.
There are more than 700,000 designers using this stage as a way of exhibiting and marketing their creations.
Setting up an account on Redbubble is straightforward, which makes it easy for creators with designs ready-to-sell start immediately.
Creating products in conjunction with these uploaded sketches necessitates quality design files appropriately arranged on each item.
Once all details such as name, description & tags are finished then the product can be released without delay onto marketplaces hosted by Redbubble.
Artists may also personalize pages within this same arena – designing profile images together with header imagery plus externalizing hyperlinks across social media thereby creating distinct presences located firmly upon its terrain.
Product Range and Shipping
At Redbubble, customers from around the world have access to a variety of home decor and apparel items.
To ensure fast delivery, established couriers like DHL, UPS and FedEx are utilized for worldwide shipping services.
Shipping fees will depend on numerous factors including order size as well as origin and destination point.
Domestic orders can usually arrive in 2 days or less while international ones could take up 3 business days plus more depending on the chosen method of shipping.
Comparing Printful & Redbubble Print Quality and Product Selection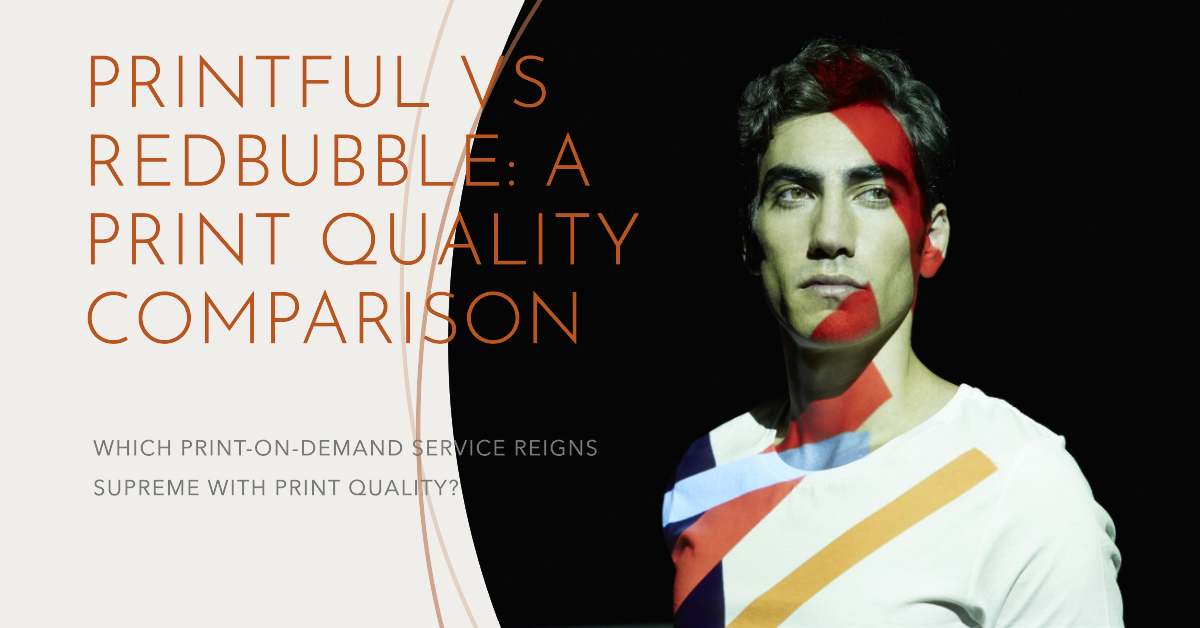 When it comes to producing top-tier print quality on t shirts and a wide variety of product selection, both Redbubble and Printful offer commendable options.
Though many customers are pleased with vivid prints that come from Redubble's use of several printing methods such as digital, screenprinting or direct-to- garment printing, when compared for range of items available (eg hoodies, mugs hats etc.), Printful wins out, due to its access to renowned brands. It is also typically more cost effective.
Their drawstring bag starts at $17.75 versus Redbubble's costing an additional 10 dollars ($28.19).
Printful vs Redbubble – Customization and Branding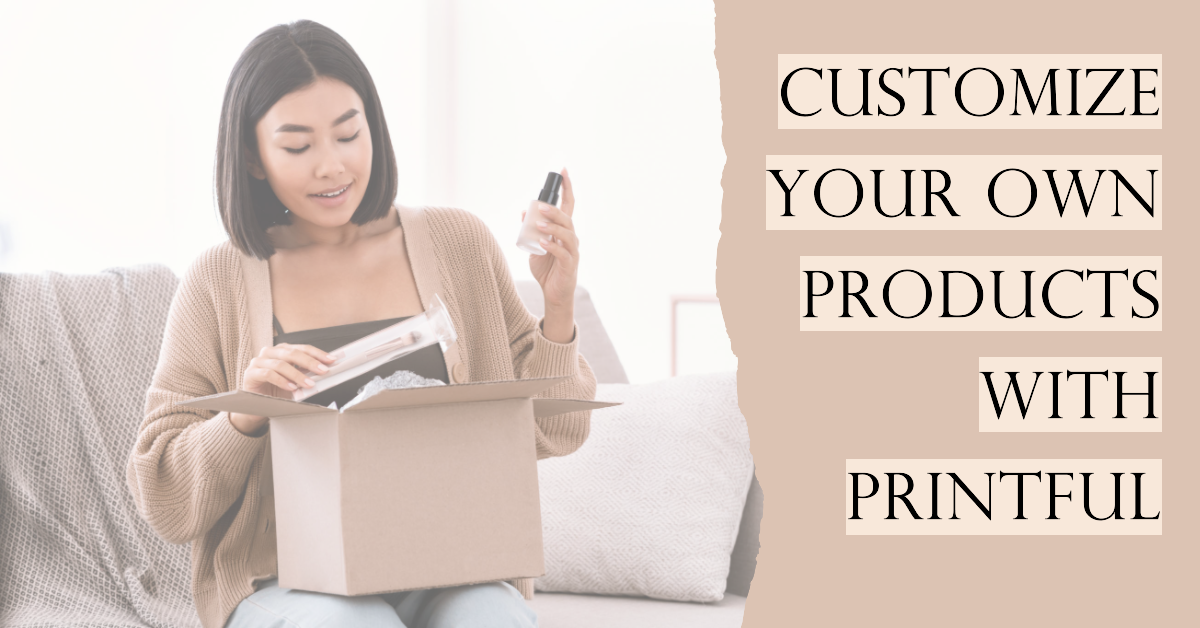 When it comes to branding options, Printful and Redbubble differ greatly. Printful offers a wide range of customisation opportunities as well as white-labeling, giving businesses the ability to have their products and packaging perfectly branded with their logo.
This is ideal for those looking to create an established brand identity across multiple product offerings. On the other hand, Redbubble ensures that every shop on its platform has one unified look by using only its own logo on products and packaging alike.
This might not be appealing for companies wanting something more exclusive from competitors present in the marketplace too.
The best choice between these two services really relies on individual preferences: entrepreneurs eager for ultimate control over what represents them should opt towards Printful's tools, while creators hoping just share designs but still benefit from being part of a well known community might find solace at Redubbles' site instead.
Ultimately, no matter which you decide upon your target market needs will always remain key consideration when making such decisions!
Printful vs Redbubble – Pricing Structures and Profit Margins
When selecting a print-on-demand platform, analyzing the pricing structure and profitability margins is essential.
Printful has set base prices for their products while Redbubble's can be variable. It's recommended to aim for 40 – 50% margin with Printful and 20 – 30% with Redbubble when determining product price points.
Shipping costs should also be taken into consideration as this affects profit margins significantly. Any applicable marketplace fees or payment processor fees will have an effect on overall cost per item that need to factor in your decision making process regarding choosing these platforms over others available on the market today.
Printful & Redbubble – Integrations and Selling Platforms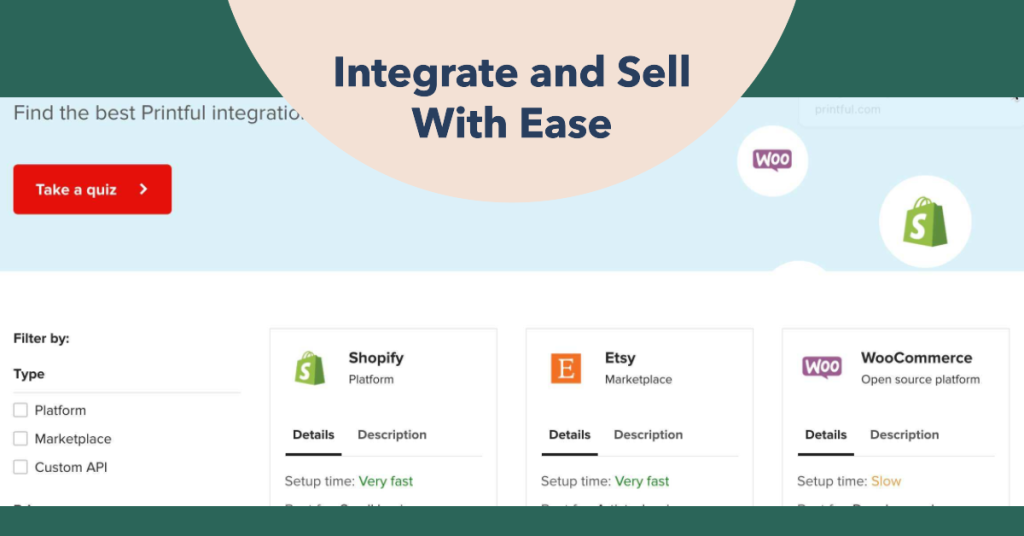 When comparing Printful and Redbubble, it's important to consider the different integrations they offer with eCommerce platforms.
Printful provides a range of options for online stores including Shopify, Etsy, WooCommerce and others.
But also marketplaces like Amazon, eBay or Wish are compatible with its services – allowing businesses an opportunity to increase their sales channels in ways that aren't available on the Redbubble platform.
In terms of convenience offered by both companies, integrating a print-on-demand company directly into your selling platform can help save time as well as reduce human error when completing orders.
With this information in mind, you need to ask yourself which option is best suited for business needs between these two providers?
Printful offers users more flexibility due to not just being able to access popular ecommerce sites but extendable too marketplace like Storenvy Bonanza etc.
The additional ability from Printfull gives merchants even greater opportunities than what's open through relying solely on using one provider (Redbubbly), making it better placed meeting desired goals expectations versus alternatives solutions.
Printful vs Redbubble – Fulfillment and Shipping Times
Printful has a clear advantage when it comes to fulfilling and shipping orders quickly. Average turnaround time for Printful's clothing items is 2-7 days, with customers typically receiving their products within four business days.
On the other hand, RedBubble's delivery times vary depending on how far away an order needs to go.
Local buyers can expect packages in two or fewer working days while remote locations may take up to three working days of processing before shipment arrives.
Shipping costs are another area where Printful stands out from its competition – calculating charges based on weight of goods sent, shipping destination and chosen method by customer whereas Redbubble takes into account several factors like item count per order as well as origin/destination points plus mail type selected at checkout point.
With faster fulfillment capabilities combined with transparent pricing structure regarding shipments made through them, businesses partnering with Printful will be able to guarantee they deliver products swiftly and efficiently without any unexpected cost surprises along the way.
Printful vs Redbubble – Customer Support and Resources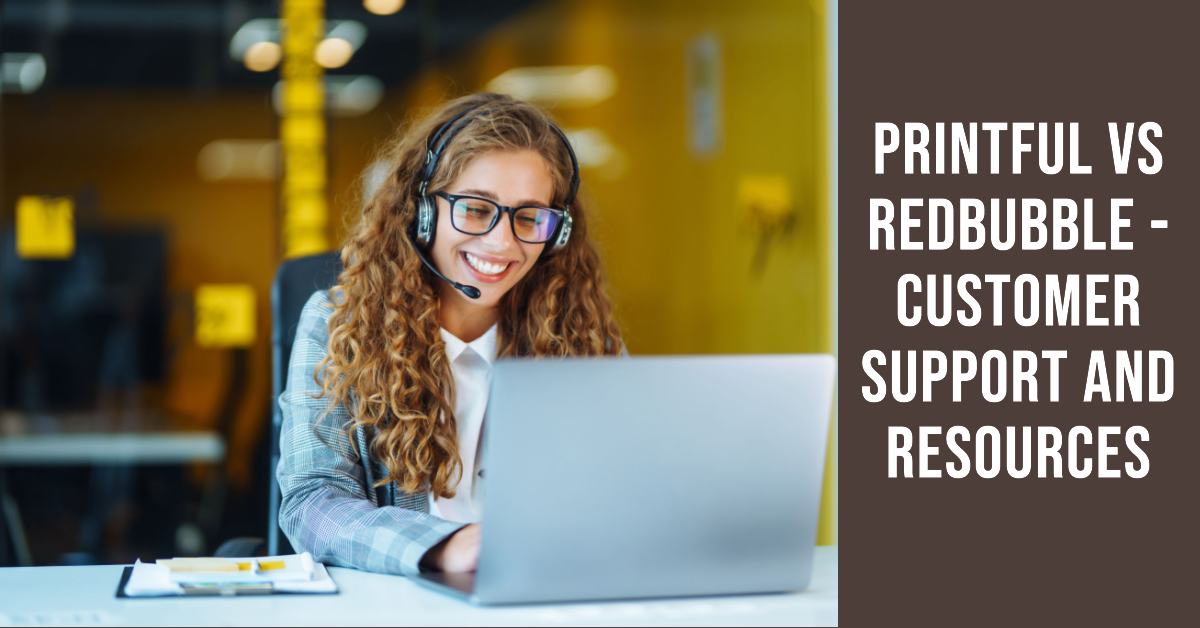 When looking for a print-on-demand platform, customer service and resources are important factors to consider. Printful provides various ways of help such as email support, live chat, and an online knowledgebase.
On the other hand, Redbubble offers assistance via Twitter DMs or their help page, which may not be sufficient with what is provided by Printful's options.
Both platforms have vibrant social media communities allowing customers to join different sellers while discovering tricks that can maximize success on demand sites.
Before choosing any one specific site it's essential to evaluate its level of customer service along with available tools necessary for success in this business field.
Alternative Print-On-Demand Services
Print-on-demand services are becoming increasingly popular, with Printful and Redbubble leading the charge.
There are a few other options to consider based on your preferences and company needs – such as Sellfy, Teespring or Spocket for instance.
For example, Printify stands out because it allows users to collaborate with many different printing partners across the globe while outsourcing production activities from an external source. In contrast to say, Printful, which manages everything internally.
When choosing among print-on-demand alternatives, it is important to assess all features carefully so you pick one that suits your business objectives best!
Printful vs Redbubble – Recap
In the end, Printful and Redbubble both provide advantageous features to print-on-demand businesses. Which one is best depends on what your business needs are, as well as its goals and preferences.
For example, with more customization options and faster fulfillment times available from Printful but direct selling possibilities being offered by Redbubble.
Ultimately, you should evaluate their qualities such as pricing structure or customer service in order to make the most informed choice of which platform suits your company's purpose when it comes to selecting a print on demand system that fits all criteria needed for success.
Frequently Asked Questions
What is the difference between Printful and Redbubble?
The cost of Printful is higher than Redbubble, though there are more products to choose from.
If budget is your main concern then RedBubble may be the better choice for you as it offers less items but at a lower price point. Ultimately, which option works best will depend on what type of product you're looking for and how much money you have available.
Is it better to sell on Etsy or Redbubble?
For those wanting to offer handmade products, Etsy is a great choice due to its established name and customer base. Redbubble then again could be the better option for artists as it offers more custom printing and framing services.
Both of these platforms are efficient methods when selling creative goods or artwork over the internet. So no matter which one you choose, success can still be achieved!
What is the downside of Redbubble?
Profiting from third-party platforms such as Redbubble can be difficult due to their sizable cut of the money made. There is a chance that aspects out of your control may impede on the quality of what you produce.
Can you make a profit with Printful?
For success in transforming creative ideas into real gains, effective branding and advertising tactics are indispensable.
It is possible to make money through Printful depending on the products you have for sale plus their markup rate as well as fees associated with your POD service provider.
All these elements should be taken into account when attempting to generate a profit from this platform.
How does the print quality of Printful and Redbubble compare?
Printful and Redbubble both offer excellent print quality, but Printful has the edge with its wider selection of products sourced from top-tier brands.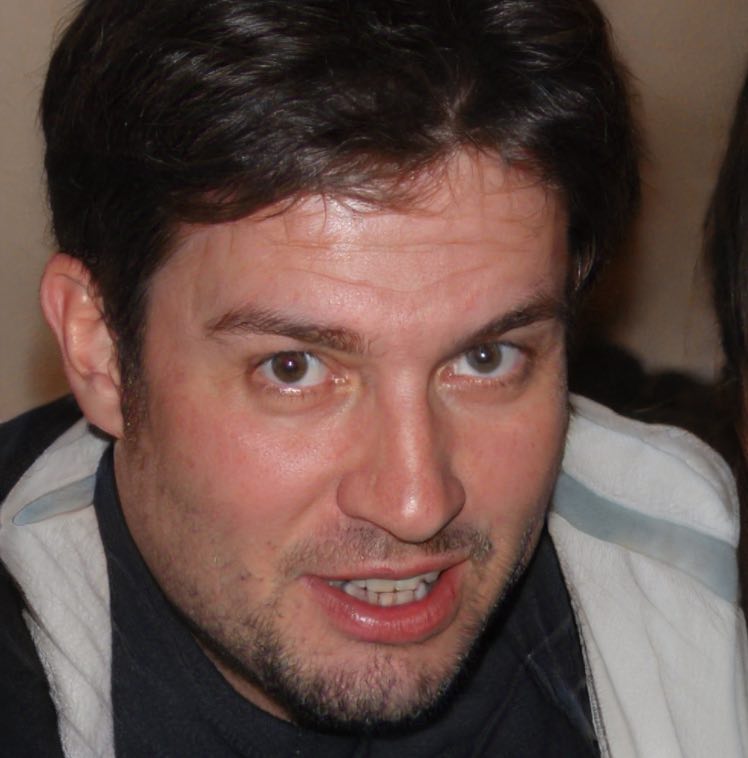 Daniel is an ecommerce expert specializing in the print-on-demand and dropshipping industry. With a background in software development, he has successfully turned his tech-savvy insights into a thriving 6-figure dropshipping business. He is a contributing writer for numerous top-tier tech & ecommerce blogs.